Can I drive my vehicle if it fails its MOT?
What to do when your MOT fails?
As it currently stands all vehicles must go for an MOT test every year to make sure they're roadworthy or if it's a new vehicle the first MOT test isn't due for three years. The law states that: "You can get an MOT up to a month (minus a day) before it runs out and keep the same renewal date." It is an essential part of the maintenance and upkeep of your vehicle as not everyone gets their car serviced regularly (although we highly advise that you do).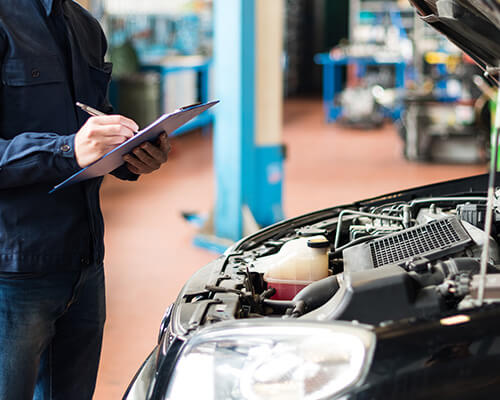 We always suggest that you get your vehicle MOT checked ahead of its expiry in case it fails, that way you have time to fix the problem and stay on the road. Should your vehicle not pass its MOT test there are a number of things you can do to ensure that you can get it fixed in good time. You can take time to research different garages and find the right one for you and your vehicle.
Another reason to get your vehicle MOT checked as early as possible is that if it does fail the MOT test you can still drive your vehicle. If your vehicle has a valid MOT it is still okay to drive until its expiry date. However, this isn't always the best option and if there is a problem with your vehicle it should be attended to as soon as possible.
If your vehicle has failed its MOT test and you continue to drive it there are consequences that can come with it. If you are involved in an accident caused by a defect on your vehicle or you are stopped by police and they inspect your vehicle you are liable for prosecution on the grounds of driving an unroadworthy vehicle. You can't deny that you didn't know about this defect either, especially when it will have been picked up in your failed MOT test. In some cases, you may receive a £2,500 fine, get three penalty points on your licence or in worse cases you could even be ban from driving.
Driving a vehicle without a valid MOT is obviously not legal. But if you are caught the consequence is a £1,000 fine as well as the possibility of invalid vehicle insurance. But it should also be noted that if your vehicle fails its MOT check on the day that the old MOT expires, it can still be driven. However, it can only be driven for one of two reasons, one is if you're going to get your vehicle defects fixed or if you have a pre-booked MOT appointment.
Should your vehicle need an MOT re-test and it's carried out before the end of the next working day, you will not have to pay for the re-test. Similarly, if your vehicle needs a partial re-test and it is completed without the vehicle leaving the MOT test centre you won't have to pay. However, the partial re-test must be done within 10 working days.
Should your vehicle take an MOT test and fail and you disagree, you can appeal. The appeal is done through the Driver and Vehicles Standards Agency (DVSA) and must be appealed within 14 days of the MOT test. The DVSA will then offer you an appointment within five days but you have to pay for it. When taking out an appeal no repairs or alterations should be made to the vehicle after the MOT test.
Need an MOT or service? Why not use our quick and easy online booking tool? This is available 24/7, so you can book at any time!
Return to Blog Posts